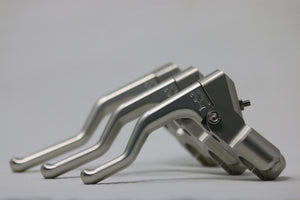 Two Finger Harley spec Bone Series Raw Machined RSC Lever With OEM Style Mirror Mount Bore
Sale price Price $155.00 Regular price Unit price / per
The two finger Harley spec Bone series RSC lever is equipped with a low profile nub at the lever tip. The raw machined anodized finish provides a durable, glossy, bold look. The two finger lever is 4.25" from pivot to tip. This is the shortest offering in the Harley spec lineup, as it has been found to be the perfect "shorty" style Harley spec lever(true one finger RSC Harley spec levers available by special order through email). I recommend the 2 finger length, as most customers find the one finger Harley spec lever, to be too stiff for their personal preference. The Harley spec RSC lever will function on all Harleys with the "eyelet" style cable end. The RSC provides a larger engagement point than a stock lever, which can eliminate stalling during a hard launch. Stunters have also found this larger engagement point very beneficial, when slipping the clutch during technical maneuvers. Providing true easy pull geometry, the RSC is capable of reducing your clutch pull by up to 50%. The RSC lever will prove itself to be beneficial, regardless of what you ride....street, track, or trail! Precision machined out of 6061 aluminum, and equipped with dual sealed ball bearings.....the RSC might just be the best feeling lever you have ever laid a finger on. Backed by the industry exclusive RSC Lifetime Warranty, the RSC could be the last clutch lever you ever purchase! Assembled using high grade assembly lube and stainless steel hardware.
Two Finger Harley spec Bone Series Raw Machined RSC Lever With OEM Style Mirror Mount Bore
2 Finger (1 Finger) Harley Lever
It feels great as a 1 finger. Even for a Harley the lever feels like butter. If you want to be able to fit 2 fingers on comfortably though, I'd recommend a "Three Finger" RSC.
Best clutch lever around
Rsc levers have been on my bikes for the past 6 years. Great true quality products.
Looks pretty
Received my 2 finger lever quick. Probably within 3 days of ordering. Went riding the day it was out for delivery and wrecked my bike that night. Once I'm back up and going I'll give it a proper break in. Until then it's an awesome paperweight!!
Best in the game
Ain't much to it. Best there ever was. Not another lever on the market that compares. I've owned 5-6 of these by now.